BASSES AND TENORS WANTED!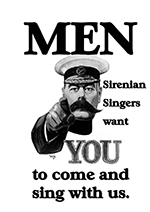 The Sirenian Singers are looking for more tenors and basses to join them. The next few years promise great things for the choir with many concerts and a European tour planned. This world-class choir prides itself on high standards at the same time as having great fun. The tremendous tuition of the renowned conductor Jean Stanley Jones MBE is the greatest asset that our choristers have. Any Sirenian would tell you that they have learned so much from Jean.

Sirenian Singers rehearse at All Saints Church Hall, Gresford, on Thursdays between 7pm and 9:30pm. If you would like to join us then please contact Sheena Williams, our wonderful secretary, by email post@sireniansingers.org.

The choir works to a very high standard and with a large repertoire. Prospective choristers would need some previous experience of signing with a choir and/ or other relevant musical experience.

We would love to hear from men interested in joining us. Unfortunately, at the moment, all soprano and alto positions are filled.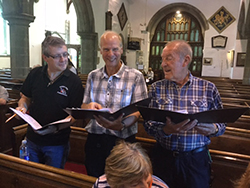 Basses have the most fun!
---
MORE CLASSICS IN THE ARCHIVE
We are updating our Archive section with more videos of the choir's past performances. This week, we have uploaded the four, fantastic performances that lead to Sirenian Singers being the first Welsh choir to win the illustrious title of Choir of the World in 1998.
Lotti's 'Crucifixus'
---